Published: June 10, 2015
The Oregonian/OregonLive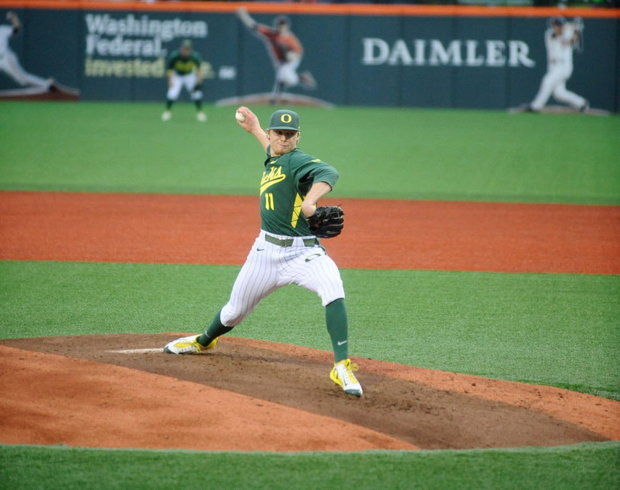 At this point, Conor Harber has got to be used to this.
Harber was drafted for the third time in his career, hearing his named called in the 16th round of the MLB Draft on Wednesday by the Milwaukee Brewers. Harber was the 481st overall selection.
Harber was previously drafted twice out of Western Nevada College. He was selected in the 38th round by Baltimore after his freshman year and the 40th round by Tampa Bay after his sophomore year.
Harber's selection came ahead of where he was projected. The hard-throwing right-handed starter wasn't listed in Baseball America's or Perfect Game's Top 500, and his 14-round improvement from a year ago came despite a rocky 2015 debut-season with Oregon.
The Astoria native's first year with Oregon was an up-and-down affair. He started hot out of the bullpen, pitching lights out in relief of Cole Irvin back when Irvin was on a pitch count. But when Harber was transitioned into a starter, his season took a turn. Harber was shelled during the midseason and was replaced in the rotation by Josh Graham. He ended his season on a positive note, though, getting the start in Oregon's 12-6 win over Canisius in the Springfield Regional elimination round. Haber struggled with his command, but still featured a lively fastball that sat in the 93/94 MPH range.
An American League scout told The Oregonian that Harber has the type of arm that is attractive to many big league clubs.
"Yeah, he struggled form a command standpoint, was probably being a little too fine and had some trouble getting his breaking ball over consistently for strikes. But the reality of it is he's a really good athlete and he has the velocity. There are a lot of clubs up there that I'm sure would love to have him," the scout said.
Harber was the  fifth Duck drafted this week, coming behind Garrett Cleavinger (3rd round, Baltimore), Josh Graham (4th round, Atlanta), Mitchell Tolman (7th round, Pittsburgh) and Scott Heineman (11th round, Texas).
Players chosen after the first 10 rounds of the draft may not receive a bonus of more than $100,000 without the additional amount behind deducted from the team's total bonus pool.