The Muckdogs  have a 20,000 square feet indoor facility to train out of, where they take batting practice, take ground balls, and throw bullpens before all home games.  All of our 9U-14U teams as well as our 16U Black Fall/Winter Team, 16U Red Fall/Winter Team, 17U Summer Team, 18U Black Fall/Winter Team, 18U Red Fall/Winter Teams and 19U Summer Team practice regularly out of this facility.  Access to using this facility outside of practices is included in the monthly membership of being a part of the Muckdogs organization.
We are located at:
451 E. Glendale Ave.
Sparks, NV 89431
(775) 856-2434
The complex contains seven batting cages, three pitching mounds, including two dirt mounds  and a 90′ by 90′ infield area.  The academy also has thirty foot high ceilings so teams can practice taking fly balls along with ground balls when they are utilizing the infield area.  There is also a new office area for recruiting meetings and parent meeting as well as a parent viewing area complete with lounge furniture and satellite TV.
Effective August of 2017, the facility will be undergoing $100,000 worth of upgrades including the installation of new LED lightning, as well as brand new field turf being installed in the infield, batting cages and pitching lanes.  Come January of 2018 these upgrades along with many others will make our facility the state-of-the-art indoor facility in Northern Nevada.  Please schedule a time to come take a tour.
Full Infield Area
Three Pitching Mounds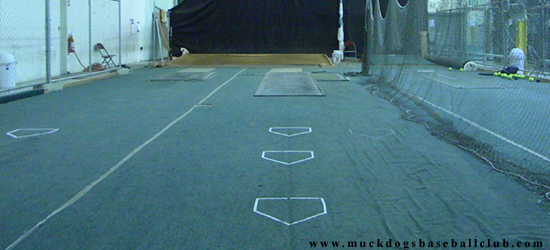 Seven Batting Cages