The Muckdogs  have a 20,000 square feet indoor facility to train out of, where they take batting practice, take ground balls, and throw bullpens before all home games.  All of our 9U-14U teams as well as our 16U Black, 16U Red, 18U Black and 18U Red Fall/Winter teams practice regularly out of this facility.  Access to using this facility outside of practices is included in the monthly membership of being a part of the organization.
We are located at:
451 E. Glendale Ave.
Sparks, NV 89431
(775) 856-2434
The complex contains seven batting cages, three pitching mounds, including two dirt mounds  and a 90′ by 90′ infield area.  The academy also has thirty foot high ceilings so teams can practice taking fly balls along with ground balls when they are on the infield.
Full Infield Area
Three Indoor Pitching Mounds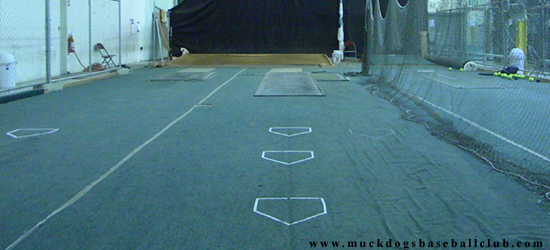 Seven Batting Cages