Published: June 19, 2015
Feather River Athletics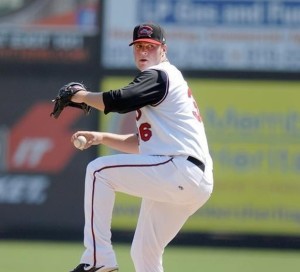 Quincy, CA – Former Feather River College standout pitcher, Cody Anderson, will make his major league debut on Sunday, June 21st as the Cleveland Indians host the Tampa Bay Rays. Anderson, the Quincy native, pitched for the Golden Eagles in the 2010 and 2011 seasons. He originally signed with TCU before being drafted in the 14th round by Cleveland in 2011. He was added to the Indians 40 man roster in November of 2014 and started the season in AA pitching for the Akron RubberDucks, where he posted a 1.69 ERA in nine starts. He was then promoted to the Columbus Clippers, the AAA affiliate for the Indians, for his last three starts and he posted a 2.33 ERA in three starts, with 18 strikeouts in 19 1/3 innings.
"We are very excited for Cody and this great opportunity in Cleveland," commented head coach Terry Baumgartner. "He has worked really hard to put himself in a position to be successful at the Major League level. Throughout his professional success he has always stayed humble and continued to work hard and he is being rewarded by getting the opportunity to pitch for the Indians on Sunday. This is quite an accomplishment and all of his former Golden Eagle teammates and coaches are pulling for him to be successful on Sunday and for the rest of the season."
"The whole town of Quincy is excited for him and Feather River College is also buzzing with excitement about this great news," added coach Baumgartner.
Cody is the third Golden Eagle to play in the Major Leagues during the program's 18 years of existence, following the footsteps of LHP Evan McLane (2002-03) and OF Chris Roberson (2000-01).