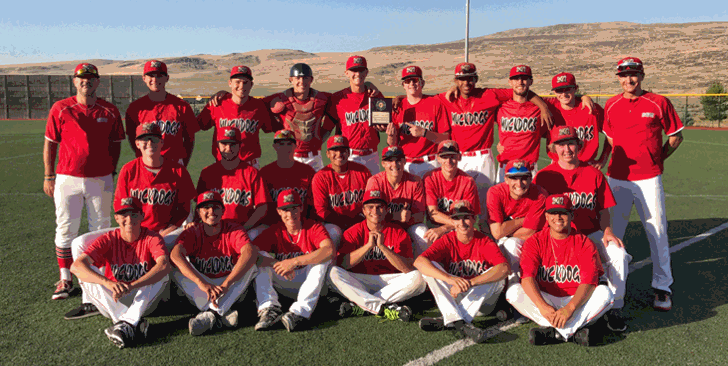 2017 19U Summer Season Outlook
The 2017 summer season should be an extremely competitive and fun one for the Muckdogs 19U squad. Golden Eagle Regional Park will where the Muckdogs will play their home games. We are excited to have upgraded facilities and are hopeful this will encourage more of the top caliber teams from the western region to come play games in Northern Nevada against our club.
The Muckdogs 55 game summer schedule features the team playing in the Red and Black Dawg Fight which is a six game series between a combination of Muckdog 17U and 19U players. The 17U coaching staff will coach one of the teams and the 19U coaching staff will coach a team. In late June the club will head to the San Mateo area to play in the Peninsula Baseball Classic. The 19U squad will play in the Muckdogs Invitational Wood Bat 4th of July Tournament in the last week in June. This tournament has an outstanding field of teams and should bring a lot of college and professional scouts to the Northern Nevada area. The Casey Yocom Invitational will be the next tournament the 19U team plays in. In late July the Muckdogs 19U team will play in the All World Sports World Series in Sparks, Nevada. The 19U team's regular season schedule includes games with Hard 90, NBO Kings, Bay Area Bombers, EJ's Sports Warriors, Thundersox Baseball Club, San Jose PAL Giants, Alameda Tritons, Peninsula White Sox, Feather River Gold and Oroville.
This will be the fourteenth summer of the Muckdogs 19U team, and this flagship team of the organization has been a staple of preparing Muckdog players for collegiate baseball and beyond. There will be a high level of exposure for the players on the team, the players will be constantly coached and taught, and the team will have a lot of fun while playing highly competitive baseball. Make it a point to come watch the team play this upcoming summer!
2017 19U Summer Season
Muckdogs 19U History
2004 17-25
2005 21-26
2006 27-25
2007 40-14
2008 52-15
2009 52-16-2
2010 48-16
2011 43-23
2012 49-20-1
2013 43-13
2014 47-16-1
2015 36-13-5
2016 38-17-1
2017 53-4
2017 19U Summer Stats
2012 Model Baseball Bats are here!
Find brand new model 2012 bats from Easton, DeMarini, Slugger, and more.